Posted by Lynn Hamilton on 13th Dec 2021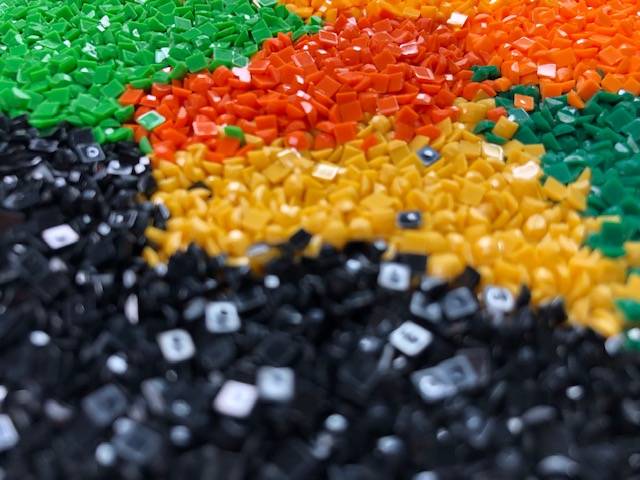 Sometimes diamond painters wonder what they can do with all those leftover diamonds they accumulate over time.
The one thing that is great about diamond painting is that you can actually find several uses for those tiny drills.
Here's a simple and fun idea:
The following tips can provide you with ideas on how to repurpose 3D and 5D drills.
Decorate a Dog's Harness or Collar
You can add a little bling to your puppy's collar by using leftover drills. It will not take you much time to add the diamonds, especially if the "necklace" is for a small canine companion and friend. Choose a white or light-colored collar so your drills will really stand out. Use hues that will coordinate well with your dog's fur. You can also do the same thing for your cat.
Add Some Interest to a Manicure
It is easy to press on some nails that display rhinestones. However, it shows even more creativeness to paint your nails, then add diamonds. No press-on nails – you just press on the drills. What is great about this type of nail art is that you can add as many as you want. You can do all five nails or you can add just a few drills – it is totally up to you.
For example, after shaping your nails, paint them a shade, such as bright pink or poppy red. Add some drills that look good with these shades, such as black, green, or white rounds or squares. Think about the colors in your wardrobe and what you will be wearing. This form of nail art gives you the ability to express your latent artistic side in a whole new way.
Add Drills to Your White Sneakers
To glam up your casual footwear, you might think of adding drills to some white sneakers. You can add as little or as much of the drills as you like. The drills set well onto the cotton, so you can transform plain white sneakers into decorative footwear.
Create Bottle Art
You can also use the leftover drills from a diamond painting kit to create bottle art. This project does not entail a high level of concentration – just your imagination. For example, you can create a tiered parfait of colors when creating the art. On the base, you might add various shades of blue while the second tier may show off coral or red. On the next tier you might add greenish drills, and top off the last tier with a pale yellow.
Repurpose Old Embroidery or Cross-stitch Grids
Instead of using old embroidery grids for stitchery, you can use them for your leftover diamonds. Therefore, you can create a whole new kind of embroidery with your extra drills. That way, you can have a stitched version and a diamond version of your embroidery or cross stitching.
Give a Mask More Pizazz
With everyone wearing masks today, you can use 3D and 5D drills to add some pizazz to any type of face covering, including scarves. For example, you can even dress up a plain white mask by adding red diamonds to fill in a heart design.
Decorate a Pumpkin with Leftover Drills for Halloween or Thanksgiving
You don't have to make a mess, come Halloween, by carving your pumpkin. Instead, you can create the pumpkin's face with your leftover diamonds. This idea is Martha Stewart-inspired, as she suggests creating no-carve glam gourds with leftover beads.
However, instead of beads, you can use your remaining drills. Plus, if you don't cut out or carve a pumpkin, it can sit at your front door or inside your home for months on display. When you use this method of pumpkin decorating, you will draw admiring comments from neighbors, friends, and family.
Transform Flower Pots and Vases
Do you have a flower pot collecting dust in the back of a dark cabinet? Well, you can bring the vase out and make it sparkle with 3D and 5D diamond rounds or squares. Turn a plain glass vase into a bejeweled work of art or add an artsy look to a clay flower pot.
Increase the Visual Appeal of Fresh Flowers
Besides affixing diamonds to the outside of a floral vase, you can also add them inside a clear plastic or glass vase filled with water. Some florists use this technique with marbles or seashells to support and stabilize floral arrangements while enhancing the visual interest of the display. Use the diamonds to anchor the flower's stems while giving the floral design show-stopping appeal
Make Your Own Barrettes
You can also use your leftover drills to fashion some hair barrettes. In fact, you can attach fabric to a clip and add the drills to the material. For example, you might add a ready-made or handmade bow to a clip and decorate the center in a color that compliments the material.
In this case, you might choose a navy-blue fabric and add white and/or red drills to the center. Or you could use a black bow, and add 5D diamonds colored in pink, white, or apple green to add vibrancy.
Adorn Your Stained-Glass Art
You can add more depth to any stained-glass art you have by adding leftover diamonds. Glittery 3D and 5D rounds and squares look great on stained glass in windows or on sun-catchers. You can also include them on stained glass shades on lamps.
Add Diamonds to Lamp Shades and Picture Frames
Give your unadorned lamp shades decorative appeal as well with diamonds. Use the drills on picture frames too.
Add Diamonds to Portfolios and Hand Bags
Give your portfolios, hand bags, and similar accessories a boost by adding diamond adornments. You can also change the looks of belts, tee-shirts, and bandannas. Even headbands can be accentuated by diamonds that no longer can be used.
As you can see, you are only limited by your imagination when it comes to repurposing your 3D and 5D diamonds. You can do a lot of things with the drills you collect from diamond painting. Therefore, diamond paint kits are a good value, and so are the diamonds used to create them.
---------------------------------------------------------------------
Thanks for reading and we hope you enjoyed the article.
Do you agree or disagree with our list?
Do you know some more great uses for leftover diamond dots?
We'd love to hear from you. Send us a picture that we can use in this blog post.
Feel free to spread the word and share with your friends.
Thank you.
By Lynn Hamilton at Diamondxpres